Posted on 26 July 2015. Tags: Circa Vintage, Nicole Jenkins, Scout and Finch, vintage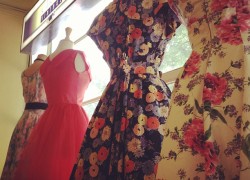 Circa Vintage's Nicole Jenkins lives by one motto: 'fashion fades, style is eternal.'
While Yves St Laurent may have famously said the line, Nicole lives and breathes it.
As the owner of one of Australia's largest vintage web shops, Nicole is a true purveyor of quality and authentic vintage clothing.
I should know I've been admiring her beautiful vintage pieces online for years.
Armed with a love of vintage clothing passed down from her mum and a desire to never dress like others, Nicole first opened her Circa Vintage store in 2004 and in 2010 carried the brand to an online store.
Due to the success of her online store, Nicole recently closed the Melbourne store to further focus on her web shop and is fast moving towards her goal of owning the largest vintage online shop in the world. Her store (click here to view) currently has about 2,000 pieces from almost 200 years of fashion.
"The brick and mortar shop allowed us to offer a high degree of customer service, in particular with advising people about which pieces best suit their needs, and putting an outfit together," Nicole said.
"The webshop makes up for these strengths by offering a much wider range, as it's not subject to space limitations. It's also easier to find what you're looking for with an online catalogue, as opposed to a physical shop.
"It also allows us to present items that are too old or fragile to hang in a shop where they might get dirty from street dust.
"Previously we had to factor in the cost of cleaning and mending as some items would get damaged or dirty in the shop – now we can price lower as the overheads aren't as high. I'm going to miss that one-on-one service but I'm still available for consultations by appointment."
The online store also allows Nicole to expand her popular range, which she has been building over the past 35 years.
"Hopefully the new, expanded webshop will be a great success, and the flexibility of no longer operating a retail shop with the structured hours that entails frees me up to do more writing, research and presenting," Nicole said.
"I'd like to one day have the opportunity to teach the history of fashion to interested people, so I hope to start further studies in that area soon."
It's a far cry from her previous roles in software design and management, but it's a rather natural fit considering her early foray into the wonderful world of vintage.
"I've always had a passion for historical clothing, so it makes a lot more sense to me than other roles that I've had," she said. "It feeds my inquisitive need for inspiration and desire to touch beautiful fabrics."
A desire and passion passed down from her glamorous mother and her grandmother's stories of style icons.
"Without my mum's passion, my life would be very different. Her wardrobe included many old pieces including a wide belt with a large Art Nouveau silver buckle and a silk velvet 20s opera coat," Nicole said.
"My grandma was very different though: she lived through hard times in Glasgow and London in the Blitz, so associated second hand clothing with poverty, as so many of that generation do.
"She would enthral me with tales of Dior New Look style fashions in the 40s and hand sewn Parisian cocktail hats, but she didn't keep anything.
"She liked to live in the here and now. I'm not sure what she would make of my career, she'd probably find it very curious!"
Nicole's store offers customers with a wide-range of eras and genres, but asking her personal preference is like asking someone to name their favourite child. Like a true vintage lover, she has a special place in her heart for each genre.
"I love all the eras, as every time has something wonderful for the modern wearer, but mostly I dress in 30s, 40s and 50s," Nicole said.
"These are the golden years of grown up glamour, but for fun I like to dip into the 60s and 70s too. Most of the styles (especially pre 60s) were made as one-offs or in small quantities so you need never fear entering a party to find someone else in your dress."
Nicole's love and knowledge about vintage clothing is endless, so much so that she's recently written about her love in a book titled Style is Eternal. This is her second book after her first book, Love Vintage, sold out.
"Vintage fashion is simply more beautiful, better quality and often cheaper than modern fashions," Nicole said.
"It offers an unlimited range of possibilities, with hand finishing, decorative techniques and fabrics that sometimes aren't even made any more.
"They encapsulate the romance of another time, and have survived because they were important to someone, and your life with them simply adds another element to their ongoing story. If you look after them, they also offer an excellent investment as they're only becoming rarer."
Amen sister!